About Dr. Richard A. Oppenlander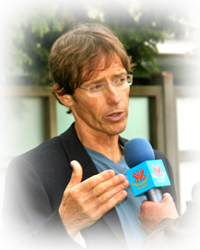 Author of the groundbreaking book, "Food Choice and Sustainability", Dr. Oppenlander is a consultant and researcher whose award-winning book, "Comfortably Unaware", has been endorsed as a "must read" by Ellen DeGeneres, Dr. Jane Goodall, and Dr. Neal Barnard, among many others. Dr. Oppenlander is a much sought after lecturer and has been a keynote speaker for several conferences and events and has presented lectures and workshops at numerous universities and corporations. Dr. Oppenlander also serves as an advisor to municipalities in the U.S. and to world hunger projects that are designing programs from his model of multidimensional sustainability.
Since the early 1970's, Dr. Oppenlander has studied the effect our food choices have on our health and the immense impact those choices have on our environment. He is president and founder of an organic vegan food production and education business, as well as the founder of the non-profit organization, Inspire Awareness Now.
With his work, Dr. Oppenlander addresses the fact that our current choice of foods is the leading contributing factor for Global Depletion—detrimental climate change, the loss of our land and freshwater, devastation of our oceans, rapid loss of biodiversity and mass extinctions, world hunger and food insecurity, and loss of our own health. Importantly, Dr. Oppenlander frankly discusses the imminent and narrowing time lines we face in terms of resolution and that time may, indeed, be running out for our own survival as a species.
In compelling fashion, he reveals serious inefficiencies and unsustainable practices in our current food production systems and explores unique solutions. Along the way, Dr. Oppenlander challenges audiences with new insights regarding how this has occurred and what factors impede us from realizing positive change – exposing our constraining cultural, social, educational, governmental, and even media influences. Dr. Oppenlander presents an unapologetic and comprehensive view with new perspectives and the disclosure of information upon which many authors are unwilling to tread.
Dr. Oppenlander's main objective within both his writing and speaking is to raise the level of awareness and accuracy of information as it pertains to the critical topic of a plant-based diet being the best and most sustainable option for our bodies, the animals, and the earth. Food choice is rarely positioned within the sustainability conversation, and often negligibly or wrongfully discussed in information regarding our health. Dr. Oppenlander writes, consults, and lectures for the purpose of repositioning food choice as the most significant component within the campaign for a more sustainable and healthy planet, and for those who inhabit it—contending that without complete and swift replacement of all animals and animal products with plant based alternatives, we will likely not reach a point of sustainability. Conversely, with new found global awareness and immediate adoption of a fully plant based diet and agricultural systems, the highest level of relative sustainability will be achieved and we will flourish as a civilization.